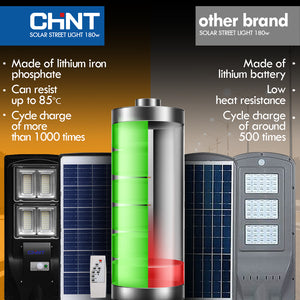 Advantage: The Standard of Battery Lifespan
Solar led lights are powered by photovoltaic panels - in which, CHINT is a solar photovoltaic enterprise supported by the government, specializing in solar panels, Lithium iron phosphate (LiFECoPo4) battery - the safest Lithium battery type currently available on the market today; can resist up to 85°C and has cycle charge of more than 1000 times.
Advantage: Return of Investment
Solar led lights products might seem a bit high at first glance, but the most convincing aspect of solar power is the ability to reduce energy bills to zero. The savings by utilizing solar power will pay back dividends in just 6 months.
Advantage: Intelligent Management System
Intelligent sensor - a smart feature that works systematically from 6pm to 11pm (first 5 hours of night) at its full brightness at 100%, subsequently, reduces the intensity of the light by 50% from 11pm to 4am (next 5 hours) and average lumens brightness at 75% from 4am to 6pm (next 2 hours).